What Our Clients Say About Us
BEACHVIEW COURT – WANNANUP
The vision was created and designed such, that it would be from this 'hub' of the home that the family would spend time together, kicking back with family and friends, lounging in the Alfresco Loggia or around the Kitchen Island bench, with a cold beer and cocktails, revelling the ocean views over the white sands of Avalon Beach and the crimson and gold summer sunsets, after a day of swimming and acquatic recreation.
Exclusive Residence are excited to be working with our Clients, building their holiday home and bringing their dreams and plans to reality. You can take comfort in knowing we build every home as if it were our own and we expect and demand the highest level of quality. Our commitment to fine detail and personal service is outstanding as attested by our many Client testamonials and indusrty awards for building excellence .
Working with John and the Exclusive Residence team has been a great success for Juliet and I and we couldn't be happier with our new home. Exclusive Residence differentiated themselves from other builders in the way they actively listened to us during the concept development phase, as this was essential for us to develop the trust in who we would select as our build partner. Their commitment to a challenging build schedule was also a major point in their favour as we had some family commitments that set our timing for when we wanted to occupy the home. None of the other firms we approached would commit to the build time we were looking for.

During the build itself the attention to detail was first class and communication was always excellent. Any time I found an item I thought needed to be attended to, John had already identified it, and had already directed the respective trades to attend to it. As the build progressed, it quickly became apparent that we could really trust John and his team to look after our interests and the quality of the finished product really stands out to me. Our new neighbours commented frequently during the construction phase on the professionalism and courtesy of Exclusive Residences and their tradesmen and they certainly made a positive impression in our new neighbourhood.

The build phase was completed ahead of schedule, and the handover process was seamless. The few minor items picked up during our handover we dealt with quickly and effectively without debate. Our family is enjoying the home immensely and Exclusive Residence made the build process very satisfying. Even our neighbours are recommending them to others, and I would certainly not hesitate to do the same!!
Peter & Juliet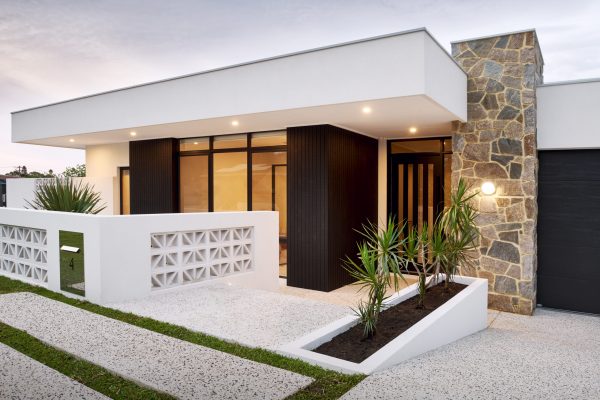 Distinctive mid-century modern aesthetic of 'The Retreat' exults that Palm Springs, Californian vibe with its long slender lines of white render punctuated with contrasting black timber panelling, eco ridge feature stone and breeze block screen walls.
Located just 3 kilometres from the popular Trigg Beach and 15 minutes north of Perth city, this lavish split levelled custom designed 4 bedroom, 2 bathroom & Powder room home, boasts a Study on the first level, Home Theatre on the second level with a generous & spacious open plan Kitchen, Dining & Living areas overlooking the Alfresco and well-kept pool & landscaping.
We are very happy to have selected Exclusive Residence to build our custom home.

We wanted to build a unique custom home that was going to be here for the longevity of our family.

Melinda and I wanted a mid-century modern look, with a resort style feel where we can sit down and entertain while watching our family play out in the pool and around the back yard all from the elevated kitchen and open plan living area. The flow of the home from the front door through to the back-resort style pool and landscaped yard with a cabana is just what we envisioned.

We are extremely pleased with the finished product and the seamless building process through construction with John and his team was a dream.

Exclusive Residence are a highly professional outfit that John coordinates. I would recommend anyone wanting to design and build a custom quality home to speak with the team at Exclusive Residence and engage them to build your dream home.

Strong Communication, time management and attention to detail were all performed to perfection and we are grateful to the team at Exclusive Residence who delivered us a very high-quality end finished product. Both of us are delighted with our home.
Brendan and Melinda Barrows
Spacious, functional, and Modern contemporary family home. The kitchen dining and living areas are designed on the First floor to take in the amazing 180-degree Indian ocean views.
With 4 Bedroom and 3-bathrooms, this home has a spacious games room with a large pool and cabana overlooking tropical low maintenance gardens.
Having two young children and both working, my wife and I were skeptical of taking on a large building project. After spending money to have an architect draw plans up that didn't really represent what we asked for and then being let down by multiple builders not turning up or not following through with quotes, we had decided to live in our property as it was.

We then went to see the Exclusive Residence display home and met John and his team. Instantly they stood out to us, not only for the quality of the home they had built, but the honest feedback they gave about what we should do with our property – something we had previously sought but never got. After a few discussions and having initial plans drawn up we decided to progress with the build and are extremely happy we did so.

Our new double story home was built in an unbelievable 8 months and the quality is fantastic. The site manager Rick was meticulous and gave excellent advice all through the build, the attention to detail was second-to-none and the team were very respectful to our neighbours during construction and the site was always neat and organised. The process was painless, and the level of professionalism was incredible right from our initial consultation to the day of final inspection and handover, it really didn't feel like we were dealing with the building trade we had previously experienced.

We are truly grateful for the home Exclusive Residence have created for our family and are so pleased we trusted them when we had almost given up.
Dave Noblett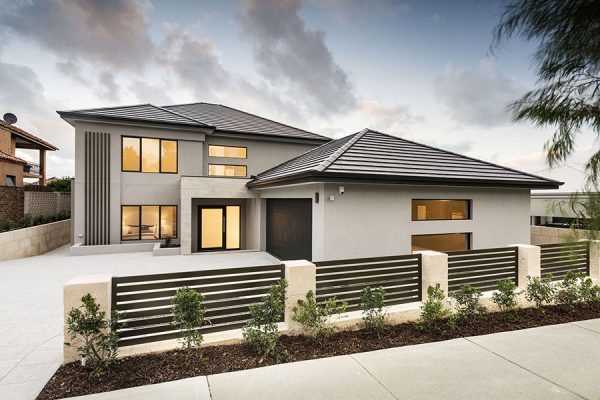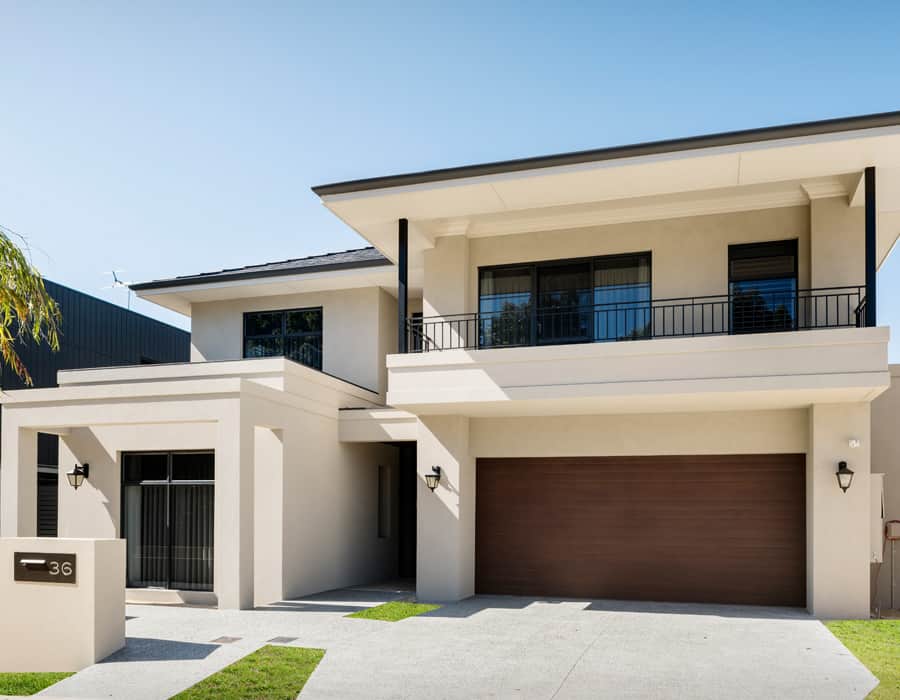 Nestled in the quiet tree lined suburb of Swanbourne, this enchanting luxury home features timeless tradition coupled with classic charm. High 34-course ceilings with extra high doors enhance the feel of space, a cleverly designed kitchen & meals takes in the serenity of the tranquil alfresco overlooking the tropical gardens.
Marble tiling and extensive lighting & electrical all combine seamlessly with the elegant walnut oak timber floors and custom wrought iron balustrading. The home is functional & every convenience & amenity a home could offer is incorporated in this spacious well-designed Exclusive Residence.
4 Bedrooms – 4 all with large walk in robes, 3 Bathrooms – 3 – full height tiled and fully appointed. Open plan dining, kitchen, living area. Large scullery – laundry. Lift access to second level. Laundry, theatre, and music room. Expansive alfresco overlooking terraced landscaped gardens.
Exclusive Residence have recently completed a new build for us in Swanbourne & we are extremely happy with the outcome. John & his team did a fantastic job with the house, including excellent management of the budget & schedule, completing the house in under 12 months. We found John & his entire team professional & courteous throughout the project & the quality of the build, fit & finish is exemplary.John was extremely thorough & approachable; he was always on hand to answer any questions or concerns we had. I would not hesitate to recommend this award winning builder to anyone wanting to build a quality home & I will definitely be using John again.
Neville & Esther Son Hing
Perched on Minum Cove Estate Hill offering sensational direct river views from all levels, this modern classic home features all the amenities & modern conveniences a custom home of this calibre demands; from the Under croft, one is transported to the GF & FF levels.
The extensive tiling, timber & stone finishes create an earthly ambience featuring spacious rooms & functional design… this residence has all its discerning owners were seeking.
This home offers 5 Bedrooms, 4 bathrooms, and a large alfresco on the Ground floor. A private study and library, dining, chefs kitchen and living area on the First floor with direct views onto the Swan River looking down at the yacht club.
Below ground is a 4-car secured under croft and foyer with lift access to all levels.
Thank you for the time and effort you and your dedicated staff put into our amazing house. Your meticulous attention to detail, not to mention the speed in which the house was constructed was a great surprise to us. Moving in to a three level home with in 10 and a half months since starting construction was truly amazing.

We felt the tradesman (or craftsman as Kate calls them), were of the highest possible standard and always helpful in terms of giving us the client exactly what we wanted. Being on the river we wanted a house that we would be proud of and of a high standard and that's what we have thanks to you. Making our selections up front also allowed us to enjoy the process as we revelled in the installation of all our selections and decisions.

We have a lot of friends who have built with other companies, with some horror stories, however we really enjoyed the process and would have no hesitation in building again with you or highly recommending you to our family and friends. Important to us also was the professionalism you showed and your integrity in completing our Casa Del Smyth.

Yours sincerely and many thanks
David and Kate Smyth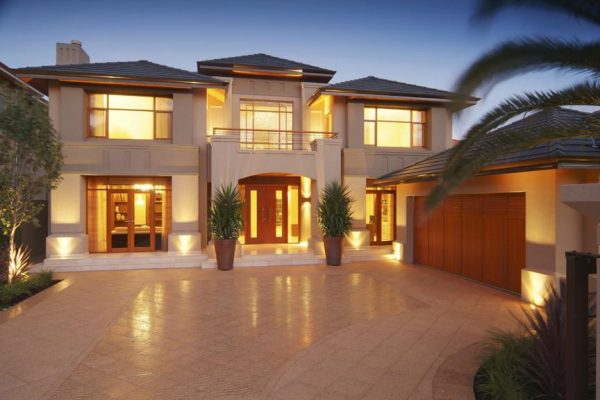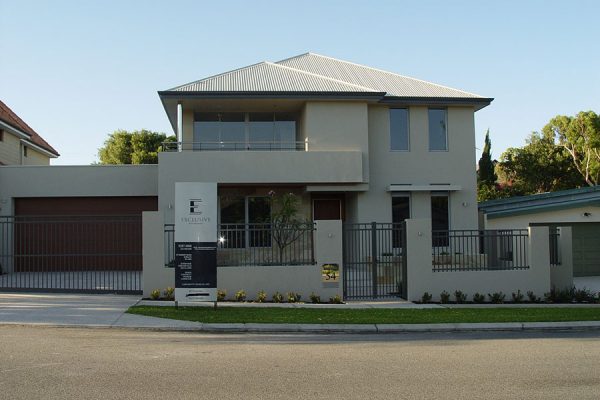 Just a few minutes' walk to the beautiful shores on North Beach sits this modern family home.
The large Ground floor begins with a secure double garage and store with the open foyer opening to an expansive Kitchen and living area and activity room overlooking a beautiful pool and large alfresco built for entertaining family and friends.
On the first floor there is a large office, 4 bedrooms and 3 fully appointed fully tiled bathrooms and a balcony with views to the Indian ocean.
We would like to say a very big thank you to you and your team for the timely construction of our new home.

As this was the first home we have built, we thought it would be quite a daunting, slow and tedious process. However, after the initial inspections of one of your display homes, to the follow up discussions with your sales team and staff we decided on Exclusive to build our home. We were told at the outset that the house could be built within 12 months and from what we had heard from friends of their experiences with building a house, we had doubts it could be achieved. Looking back, all the prior planning, selection process and advice from you and your team paid dividends.

The building started on schedule and it is a credit to you and your quality trades people that we moved in within 11 months. The house has turned out exactly as we hoped and the finish and quality is superb. We would also like to make a special thanks to your painter, tiler and cabinet maker for the attention to detail and quality. A special thank you to you for your professionalism, support and advice in making our dream come true. We would have no hesitation in highly recommending Exclusive Residence to other potential home builders and perhaps one day we may even build again with Exclusive.

Thanks again from myself, Jen and the three kids – we all love our Exclusive home.
Wade and Jennifer Johnson
The brief from our Client was to fulfil their dream and design a well-proportioned modern large single storey home for their growing family.
The home consists of 4 large bedrooms with two porcelain tiled bathrooms and a powder for guests.
A double garage with large storage areas with direct access to the home and a theatre with access to the alfresco and large alfresco were musts that the Clients loved!
We are extremely pleased with our home! Exclusive Residence was our only choice after considering other builders. Exclusive Residence turned our property into paradise. The craftsmanship is like no other home we have ever seen . From start to finish, their products, patience and professionalism transformed our dream into a reality. We absolutely love our home.

The staff in the office, their contractors and the crew did a magnificent job! If there were any questions or concerns, they were handled in a professional manner and the matter was readily solved. Our home is everything we wanted.

A special thanks to John Douglas, we could not ask for a better builder to walk us through a life altering change. From start to finish, John made us feel there was nothing he wouldn't do. For all the last minute changes and countless questions, he never made us feel like we were a bother. It is refreshing to see a company with such good people and ethics. Thank you for treating us right. We are forever grateful.

We would recommend John and the team at Exclusive Residence to anyone who asks us. Thank you so much for everything.
Tony and Felicia Castrianni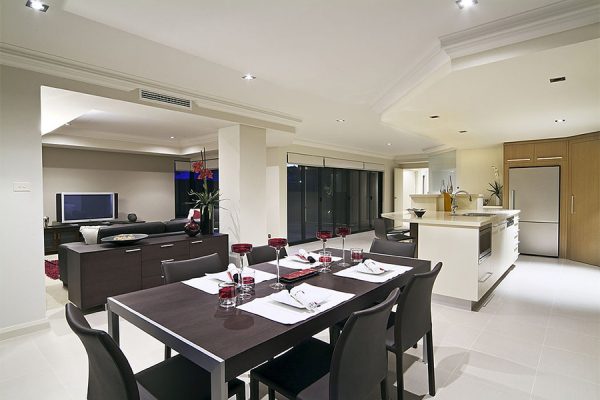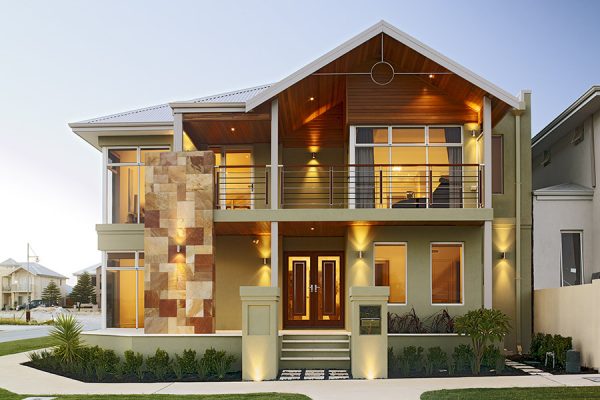 Perched on a corner block on the hill overlooking Hillarie's boat harbour with direct ocean views, this Family home boasts a stunning Modern Classic elevation Highlighted by the aspen stone entry portico and timber façade and ceilings. This outstanding Home features all the amenities and modern conveniences a home of this calibre demands.
The curved staircase with feature polished custom balustrading and extensive use of honed porcelain and timber throughout the open plan Living, kitchen and entertaining areas provides a feeling of warmth and luxury.
Masterfully designed the residence features four large bedrooms with practical storage solutions and clever bathroom layouts that are functional and luxurious. A large home theatre and study with coffered ceilings make family entertaining a pleasure as you overlook the finely appointed alfresco and lap pool.
Rear access to the double garage with storage to the loft above offers our Clients security and allows the homes façades to be showcased without a visible.
As professionals with a very busy lifestyle, we wanted a builder who can deliver quality in a reasonable time and to build at a fair agreed price. We were introduced to Exclusive Residence by mutual friends. After a few meetings we decided Exclusive Residence was going to build our new home. After meeting the estate covenant requirements and local council requirements Exclusive Residence was in full gear.

During the construction we found the whole team at Exclusive Residence to be nothing less than perfectionist themselves. Under the direction of John Douglas and our supervisor Rick Gorton, their strive for excellence was obvious. When it came time for handover there were only a few items that need to be attended to. Most of these items were already in motion. Exclusive did the best to always make sure the tradesmen finished the job properly the first time. It was very obvious to us the pride that John and the team have for their clients as well as for themselves.

In some situations Exclusive Residence took it upon their own to make whatever changes they felt was necessary to improve the overall quality and look of our home towards a particular finished product. And that's what we call… quality of service. We were told our house will be ready in late March, early April. When we returned home after Christmas in late January we were advised our house would be completed in just a few weeks.

Still to date we have friends, neighbours, delivery people and even tradesmen compliment the high level of finish to our home.

Not only was it built with at such a high standard, amazingly it was built within 12 months. We would also like to acknowledge the specific efforts of your supervisor Rick who has clearly gone over and beyond, to make the building of our new home with Exclusive Residence a memorable one.

Thank you.
Dr's Paul and Natasha Bruno
The Mount view - Mount Pleasant
Built in a quiet tree lined street overlooking the Swan river this Family home boasts a stunning Modern Classic elevation. This outstanding Home features all the amenities and modern conveniences a home of this calibre demands.
As you enter this home the curved staircase with feature dome and wrought iron and polished stainless-steel balustrade immediately captures your attention.
Cleverly hidden behind a cavity sliding door is a theatre that rivals a gold class cinema experience. A large curved kitchen with living and alfresco overlooking a magnificent pool is built for entertaining friends.
The First floor is designed for the family – 5 large bedrooms all with luxurious appointed bathrooms and a sitting room and balcony overlooking the Swan River make this home an oasis after a long day at work.
Linda and I would like to express our satisfaction at the level of professional service and workmanship we have received from Exclusive Residence in the construction of our new home in Mount Pleasant.

From the start of construction the planning, organisation and the quality of trades supplied has been first class. The house has been completed in less than 12 months with no compromise on the quality of workmanship the attention to detail has also been excellent.

Exclusive's "S2F" start to finish process, in particular the selection system of all fixtures and colour selections prior to the start of construction with the help of your interior designer, was of great assistance which contributed to the completion date, and prevented any potential delays. We are very pleased with our new home and would be more than happy to recommend the quality of service supplied by Exclusive Residence to any potential house builder.
Linda and Gerard Doyle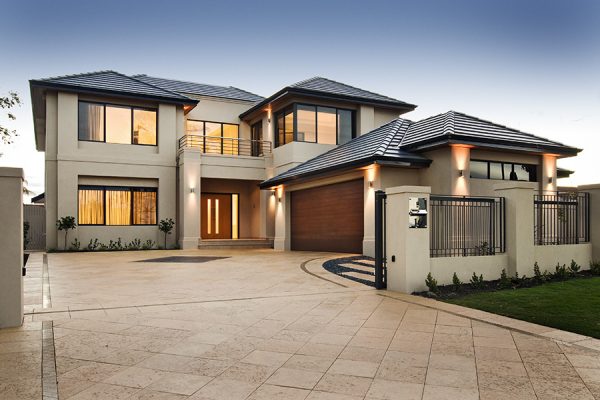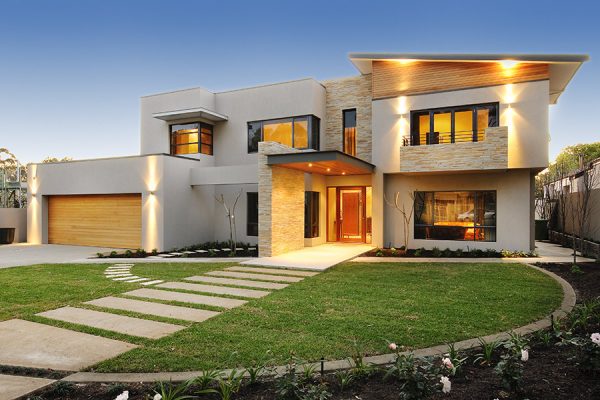 The WOW factor of this stunning residence is immediate. The modern elevation blends perfectly with suspended the steel awnings, stone cladding and timber featured ceilings on the street elevation which is striking.
From the moment you step through the entrance, the crisp colours and unique floating staircase design are captivating. The inspirational feature walls, against Spotted gum timber flooring blend perfectly with Porcelain tiled floors and open plan kitchen living and expansive alfresco
This home has a 4-car garage, theatre library and study and 5 bedrooms with full height tiled ensuites and a large sitting room with amazing views to the City skyline.
Finally a BIG thank you for a great and extremely timely job on our home. It's hard to believe that handover was six months ago. It's even more amazing when I think that had we used any other builder we would be lucky if we were just starting to get organised to move into our home.

Thanks also for handling the maintenance issues so timely. From experiences my friends have had, maintenance issues can cause all sorts of ongoing grief for owners. Look forward to building with you again should the need/desire arise. Thanks also to the guys on the job, particularly our supervisor Rick and your skilled tradesmen. They were always a pleasure to deal with.
Joy Crocker and Michael Bisset
This home was the winner taking out the MBA award for Custom architectural designed double storey homes.
Designed to suit a narrow block Ground floor has a Cedar lined portico, alfresco, feature stone entry, study, theatre, family, dining, kitchen, laundry, private direct entry from double carport and single garage, bathroom/powder and cellar.
On the upper floor is Lobby style landing, complete master suite, walk in robes, 3 minor bedrooms with built in robes and main bathroom zoned for multiple person use.
We wish to express our thanks to you and your team at Exclusive for an outstanding job.

Having built homes on prior occasions in our capacity as commercial landowners, we have had extensive experience with building. You and your team made this building process seamless and the end result is outstanding.

We appreciated the efficiency of your tradespeople when any minor items required attention and the overall thoughtfulness in regards to keeping the site clean and organised. Your concentration on the details of the project has insured that this home is of the highest quality and we wouldn't hesitate to recommend Exclusive Residence to others wishing to build residential projects.

Once again many thanks from all at Automotive Properties.
MV Prater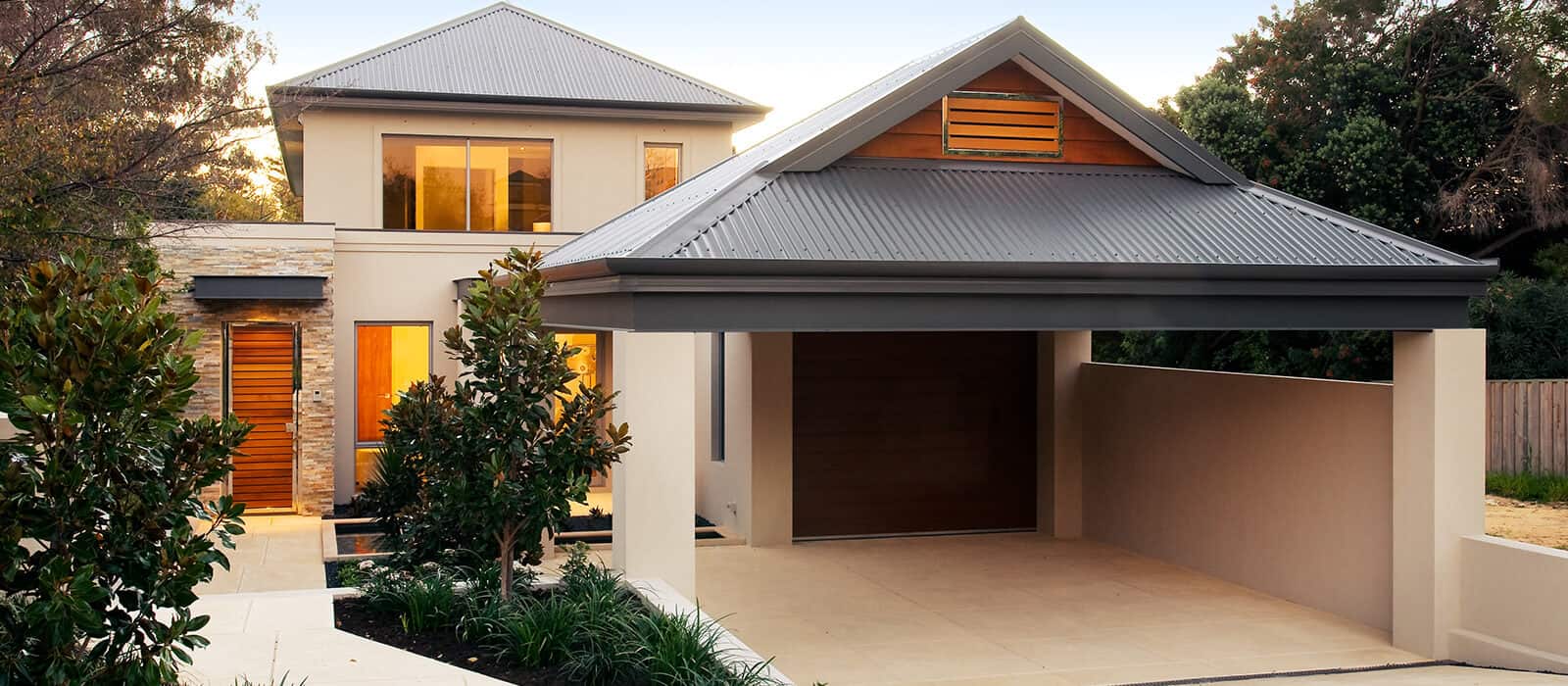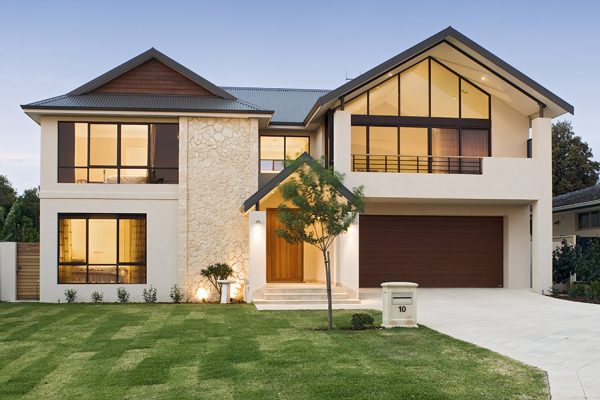 Built as a functional family home it was important to our Clients to have a classic contemporary home for their family that was designed to take in the breathtaking views on a hilltop in City Beach.
The Ground floor has a 3-car garage with clever storage incorporated into the design. As you enter this home the vaulted ceiling with stone and timber creates a warm and inviting ambience.
On the ground level the home has a theatre, study and dynamic vaulted ceiling above the open plan kitchen and living area that extends through a gable glass wall into the alfresco overlooking a spacious pool and outdoor entertaining area with a raking .
The top level has 3 large bedrooms and a large sitting room with a high raking ceiling opening onto a dedicated balcony designed to relax with friends and soak in the amazing sea view out beyond the Indian Ocean.
We would like to express our sincere appreciation for the way which Exclusive Residence, under your direction, has built our home. When we were given an indication back in January that we may well be in our new home for Christmas, we thought that this would be "nigh impossible" given the average time to build a two story residence seems to be two years in this current climate.

You can imagine our absolute delight to now be moving into our home 10 days before Christmas. To have built our home in just over 10 months and to have completed it to such a high standard of finish is testament to your organisational skills and your personal undertaking to build a home of excellent quality. We would like to specifically mention your attention to the finest details; the way in which the construction and delivery of goods flowed so smoothly, and the meticulous way in which the building site was kept. As the year went by such professionalism instilled great confidence in us so as to conclude that we had chosen the right builder for the job!

We would also like to commend your office staff and particularly your site supervisor Rick Gorton who have all provided service at the most professional levels. Rick's work ethic is to be commended. We wish you and your company all the very best for the future and look forward to seeing the Exclusive Residence sign on many more blocks of land around Perth and further afield. Your reputation as an excellent builder will no doubt precede you.

With best wishes, yours sincerely
John and Sally Orr
Set on a large, elevated block, this beautiful two storey home was built for our client to accommodate their young family as their forever home.
This magnificent home boasts 4 large bedrooms, 2 ensuite plus a third bathroom, study, and open plan living that seamlessly extends onto a large alfresco for hassle free entertaining.
Also sporting a theatre, second living space (sitting room), and a double lock up garage that includes a store.
This home sits on a large 24 metre frontage on a 837 sqm block.
We chose to build with Exclusive Residence after having met with several builders and feeling comfortable that we would be in safe hands with Exclusive as first time builders. The focus and pride on workmanship, commitment to a timeframe and transparency were what attracted us to Exclusive and we haven't been disappointed.

Exclusive helped make the building process simple by walking us through each step and arranging sessions with experts throughout. This helped us make improved decisions and simplified the selection process that could otherwise have been quite a daunting task. It also ensured we had complete visibility of our "move-in ready" cost upfront with no nasty surprises later.

The team have done a brilliant job bringing to life our imagined family home, in an incredible timeframe and the quality speaks for itself. We can't wait to move in and thank you!
Guy and Sarah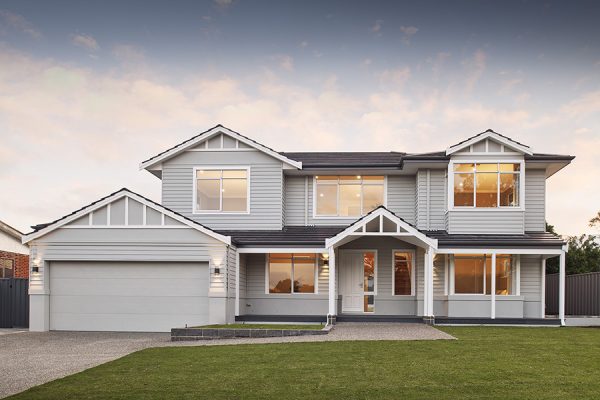 Exclusive Residence, The Retreat, Karrinyup Open Night Speeches
Experienced, Professional, Transparent
As a highly awarded and recognised luxury home builder in Perth, we are here to work with people who are at a certain stage in their lives, either financially, or in terms of the lifestyle they want to live.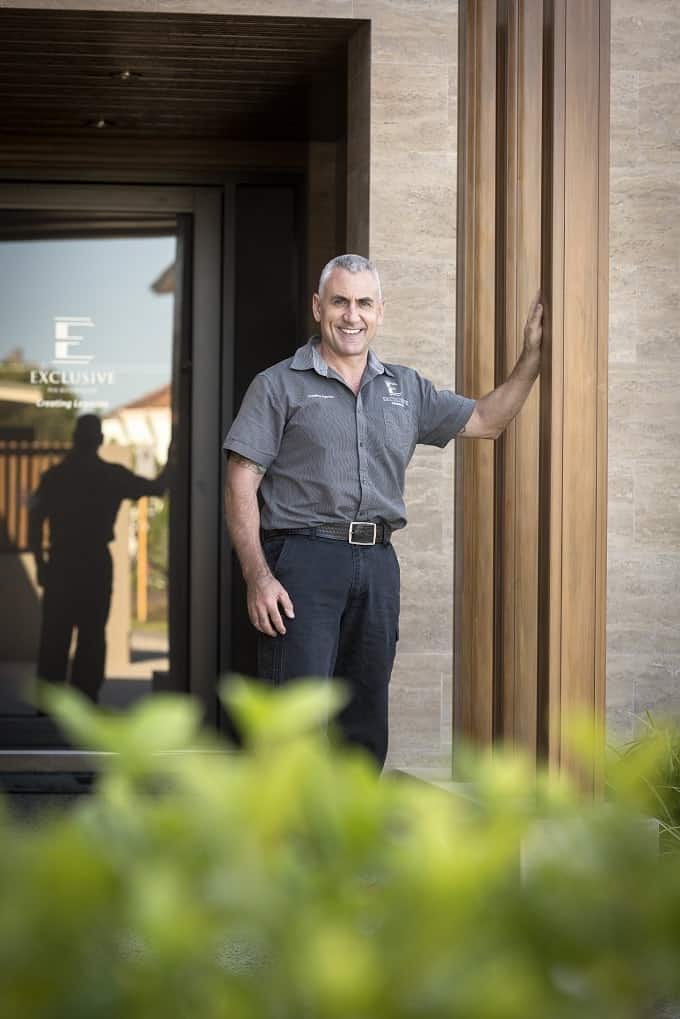 "Communication is a strong point at Exclusive Residence. We make sure we have everything we need from the beginning. We want you to be informed, confident and relaxed in the knowledge that your home is being built the way you want it."
Timing, budget & luxury
When you decide to build your luxury home in Perth, you will have many things on your mind including translating your vision into a beautifully designed, functional home plus timing, budget and a certain level of style and luxury.
You want to complete your project within a certain time frame and budget. These factors are central to any new home, and vitally important to our team. You don't have time to waste, you want premium design concepts and finishes, and you want to be energy-efficient and environmentally friendly too.
Some builders would say they can deliver a home quickly. Exclusive Residence goes one step further. We commit to a 12-month timeframe, from earthworks to completion and this is unprecedented in Perth.
Owner and Master Builder John Douglas takes personal interest and involvement in every home built by Exclusive Residence to ensure this promise is upheld.
Legacy & heritage
Communication & freedom